Liebe Seele Wine Red Wrist & Ankle Cuffs Review
Two more fantastic products from Liebe Seele that feel as good as they look
I'm still buzzing about the review I did for the Liebe Seele Wine Red Collar & Leash Set. It blew me away in terms of its quality and levels of finish.
When Liebe Seele, a Japanese manufacturer and retailer of fine BDSM products, got in touch with me, I was delighted.
"I love the look of these cuffs on sub'r'. I also love their effect on her when I fit them to her wrists and ankles. She becomes putty in my hands, and it is a lot of fun to restrain her in different positions before using wands, dildos or strap-ons for some light entertainment."

Joanne
They sent me the collar and leash set together with their wrist and ankle cuffs from the same Wine Red collection. I have had some time playing with them with sub'r' and now feel qualified to give them the review they deserve.
So let me tell you all about the Liebe Seele Wine Red Wrist & Ankle Cuff Sets.
Delivery and packaging
Considering that these cuffs came from Japan to me here in the UK, I was pleasantly surprised at just how quickly they got here.
Packaged extremely discreetly, I had no worries about my nosey neighbours working out that even more bondage related kit was arriving on my doorstep.
All three boxes (both sets of cuffs and the collar and leash set) were securely packaged and arrived in perfect condition.
I love the boxes that Liebe Seele use for their products, the cardboard sleeve that fits around the box looks fantastic. I can't read Japanese but seeing it all over the box gives me a warm feeling, and I love the look.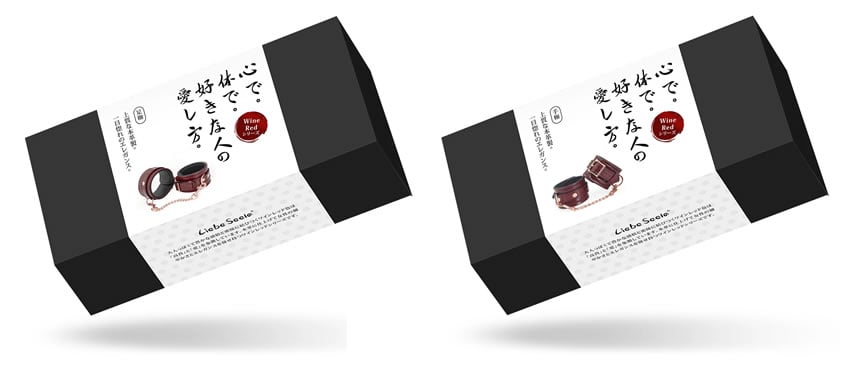 To read more, pls click this link:https://www.sexmachinereviews.co.uk/liebe-seele-wine-red-wrist-ankle-cuffs-review.html